We advise motorists in Cullompton, Broadclyst, Exeter and the surrounding Devon area to have their cars serviced annually.
We advise motorists in Cullompton, Broadclyst, Exeter and the surrounding Devon area to have their cars serviced annually. While you are not legally obliged to have your car serviced, doing so will ultimately cost you less in terms of future repairs and will prolong the life of vital engine parts. We also offer winter checks to ensure vehicles are prepared heading into the cold season.
MOT Inspections & Testing
RC Motors is an MOT Vehicle Testing Station approved by The Department of Transport.
An MOT test certificate is required for vehicles over three years old and an annual test must be carried out. We offer a while-you-wait MOT service and if your vehicle fails we will carry out a retest free of charge. Please get in touch for more details or to book your test.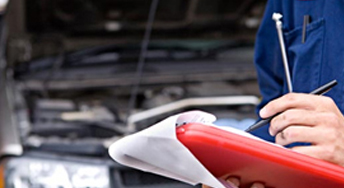 We are able to provide a wide range of welding services and carry out bodywork and exhaust repairs to a high standard. We work on both commercial and domestic vehicles as well as full restoration projects. Get in touch to discuss your individual requirements.
The electrical system of your vehicle is made up of the battery, starter and alternator. If there is a problem with any of these parts, your vehicle will not run properly or will not start at all. We are able to check your vehicle's electrical system to identify any issues, source and fit replacement parts and carry out any repair required.
Looking after your fleet of vehicles is vitally important and regular servicing and maintenance can save your business a lot of time and money. Get in touch to find out more about what we can do for your business!
Even a small or minor problem can lead to a serious safety issue, so always get your vehicle checked out.
A complete safety analysis offers you reassurance and peace of mind that your vehicle will be as safe as possible on the road. A safety analysis is recommended particularly when buying a used vehicle.
If you're having drivability problems or just feel that something isn't quite right with how your vehicle is performing on the road, bring it in to us and we'll check for drivability issues. With thorough checks and diagnostics, we aim to solve drivability problems before they become a major or costly concern.
If your clutch is slipping or not performing correctly, bring your vehicle in and we'll check it for you to determine if it is faulty and can be repaired or if it needs to be replaced. Here at RC Motors we provide a complete clutch replacement service to get you back in gear as soon as possible.
At RC Motors we provide a full tyre fitting service and we're able to offer you a range of tyres to suit your vehicle and your budget. We recommend checking your tyres every two to four weeks to ensure that the pressure is correct and that the level of tread is adequate.
You can't afford to take any chances with your vehicle's brakes and braking system! Pop into RC Motors for a full check up of your vehicle's braking system's performance. We're able to source and fit all types of brake products and repair and/or replace brake system components including hoses, pipes, drums, pads, shoes, disks and master cylinders.
If your vehicle's exhaust system is in need of repair or replacement, we're able to offer the full service to ensure your vehicle's exhaust is restored. Broken or faulty exhaust systems can cause a number of problems including harmful emissions, increased fuel consumption and reduced engine performance.
Keeping your vehicle's steering and suspension well maintained is vital. Steering and suspension is responsible for a balanced, stable and smooth drive. Faults with these systems can cause costly wear and damage to the vehicle as well as rendering your vehicle dangerous.
Incorrect wheel alignment can affect traction on the road, cause unnecessary and uneven tyre
wear and affect the handling of your vehicle. We offer a full alignment check and will adjust the alignment of the wheels. If you notice any uneven or unusual wear on your vehicle's tyres, pop in and we'll take a look.
Do you own a vehicle and live in Cullompton, Broadclyst, Honiton, Exeter, Tiverton or anywhere in the surrounding Devon area? If so, please remember the name of RC Motors whenever you need car repairs, servicing or MOTs at a fair and affordable price.
RC Motors
Station Yard, Hele
Exeter, Devon, EX5 4PW
Telephone: 01392 881 286
Mobile: 07971 283 863
Email: info@rcmotorsdevon.co.uk
At RC Motors, we regularly have cars in that fail their MOTs because of a broken light bulb. In fact, 1 in 5 cars in the UK fail the annual inspection for this very reason. Before bringing your car in for an MOT, check headlights and indicators at the front and back. Ask someone you know to help check your reverse light.
Changing your engine oil is a vital part of your vehicle's maintenance and keeping your vehicle topped up with the correct level of clean oil is extremely important. Regular oil changes will ensure that the moving parts of your vehicle's engine are adequately lubricated to minimise damage, aid fuel efficiency and maximise power and performance.
Your vehicle's cooling system consists of parts and fluid that work together in order to control the engine's operating temperature. There are many parts in this system; water pump, drive belt, thermostat, radiator cap, hoses and coolant. We can service your vehicle's cooling system as well as carry our repairs or replace parts.
We can provide a full fuel system service to help keep your vehicle cleaner and greener. Regular servicing and cleaning of your vehicle's fuel system will improve fuel consumption and aid emissions as well as improve the overall performance – in fact, you'll probably notice the difference immediately.
We've all been in that distressing and frustrating situation when our vehicle breaks down and we understand the importance of a swift recovery at an affordable price. We will attempt to fix your car at the roadside and get you back on the road however, if we are unable to do so, we will recover your vehicle safely and efficiently.
Your car's onboard computer, or Engine Control Unit, generates an error code if a problem is detected and a warning light may appear on your dashboard. There are hundreds of possible error codes and only specialist computer diagnostic equipment can identify the exact problem.
We offer an extensive air conditioning service to ensure your air conditioning system is clean, healthy and functioning correctly. The service includes a full inspection and checking that the system is operating correctly, adding fresh system oil, checking temperature and recharging refrigerant to the recommended levels.
From repairing and replacing components to fine engine tuning to improve the performance of your vehicle, we offer a full range of engine work. We pride ourselves on providing an excellent service at a competitive price. Whatever your requirements, don't hesitate to call us or pop in.
E: info@rcmotorsdevon.co.uk M: 07971 283 863
E: info@rcmotorsdevon.co.uk M: 07971 283 863